Interviews: TV, newspapers and websites
Before I became a city guide, I was involved in several social and cultural organizations under which I have given some interviews.
Interview given to the local TV "Kijk Almere", November 24th 2020
Interview given to the local newspaper "Almere Deze Week", about the artwork "Twee Vrouwen" (2009), in Tussen de Vaarten Zuid, Almere, February 26th 2020
This artwork represents the dialogue between two women from different cultures. They are portrayed looking at each other, having an intimate conversation. One represents a western white woman and the other a black woman, most probably inspired by the regular travels of the artist, Roy Villevoye (Maastricht, 1960), to Papua New Guinea (a former Dutch colony) and its contacts with the Asmat people. The artwork is located next to a lake surrounded by greenery. Looking at the artwork, from the opposite side of the lake, it looks like we are at the cinema, watching a movie clip. The artist, based in Amsterdam, is also known by his short films and photography works.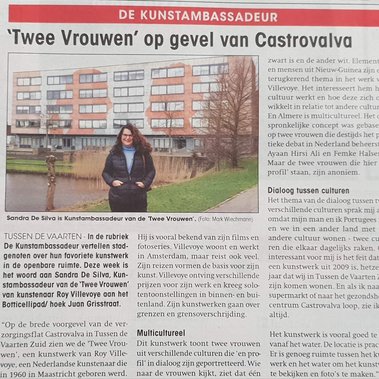 TEAM FRANC is an exhibition organized by Corrosia Theater, Expo & Film, in Almere Haven. Residents of Almere visit several Art Academies Graduation Shows and chose the artworks that will be part of the annual exhibition in Corrosia.
I participated in Team Franc 2018, visiting the Rietveld Academie in Amsterdam and choosing the glass artwork of Judith Roux.
Omroep Flevoland, October 14th, 2018
International Almere is an organization that aims to help internationals to integrate and feel at home in Almere. In 2018, I was part of the board as a Secretary and I was hosting twice per month the Dutch Language Café.
Interview given to Iamsterdam blog about my experience as an international in the Amsterdam area.